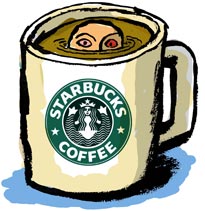 Hate or love the mermaid from Seattle, Starbucks undoubtedly is the most famous coffee brand in the world (if not universe? I hear they've opened a branch on the moon).
If you're wondering if the larger-than-life chain is indeed part of Dr.Evil's empire, read on!
Starbucks
Starbucks was named after a character in Moby Dick, and the story
began in 1971 when the first Starbucks opened in America's oldest Farmer's Market, the Pike Place Market.
Then, the company was a local coffee roasting facility until 1982 when Howard Schulz joined the company and turned their marketing strategy around.
On a trip to Italy, Schulz was inspired to the coffee bar tradition and sold his idea to the Starbucks founders. In 1985, the first coffee bar opened, and true to Italian style, they called it "Il Giornale" and it was a smashing success.
In 1987, together with new investors, Schulz bought Starbucks and opened new cafes in Vancouver and Chicago, rising to 17 that same year.
With 165 cafes by 1992, the company went public and now trades at the NASDAQ.
On March 7th, 2001 Starbucks opened their first cafe in Europe – in Zurich, Switzerland. Today, Starbucks is found in 30 countries around the world, with 9,000 cafes and counting. The company also donates a lot to charitable organizations.
Originally posted on August 4, 2010 @ 10:03 am