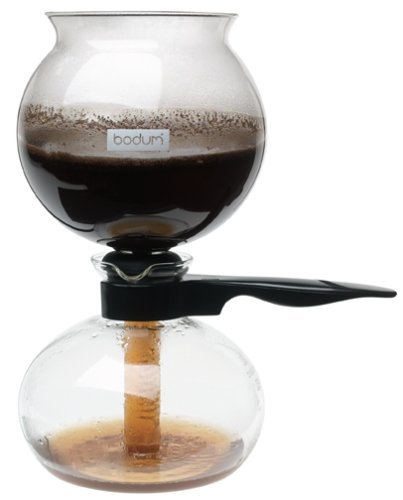 If you want to try a cool way of making coffee, check out brewing with a vacuum pot. Talk about scientific, this method has been around since 1840. This is a great tasting scientific experiment. It also makes coffee that doesn't have the taste of the paper filter, which is a bonus.
The vacuum pot is actually two globes on top pf each other. There is a filter and siphon between them. The water when heated flows through the siphon and into the coffee before transferring to the lower chamber as it cools.
To make coffee using a vacuum pot, you place the water in the lower half and let it boil. Just make sure that the pot is completely dry on the outside before you put it on the stove. When the water starts to fill the upper half of the pot, add the coffee. We suggest you use a medium grind for best results. You leave the pot on the stove for about 3.5 minutes. When you take it off the stove the lower half will cool and the coffee will transfer to the lower chamber leaving the grounds behind.
Try this brew for yourself. It makes a great tasting brew.
[tags] coffee,brewing,vacuum pot,method,science [/tags]
Originally posted on December 18, 2006 @ 7:02 pm